Sea Food Metal Detector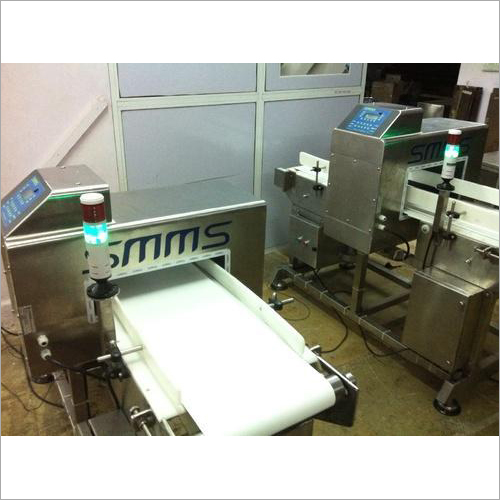 Sea Food Metal Detector
Price And Quantity
Product Specifications
Stainless Steel

50 Hertz (HZ)
Product Description
Sea Food Metal Detector Details :
| | |
| --- | --- |
| Minimum Order Quantity | 1 Piece |
| Material | Stainless Steel |
| Alarm Mode | Sound |
| Range | 4 meter,6 meter |
| Brand | SMMS |
Metal Detectors in Seafood Processing Units:
India is ranked number one producer of farmed shrimps globally, accounting for nearly 6% of the global fish market. The country aims to become the largest seafood exporter worldwide and to make it possible the Government of India has supported the fisheries export in the budget of 2020. In the coming years, we could see the growth of the Seafood export sector by 50%. The countries where the Indian seafood is supplied are mainly China, Japan, UK and US. Indian seafood exporters in India follow the stringent quality policy throughout the process as the importing countries follow stringent quality control norms and have strict inspection guidelines. One of the most critical checkpoint equipment used in the processing lines of seafood exporters in India is a metal detector. This equipment is used at different check points on the processing lines, such as:
1) The Loose IQF Lines: At the loose IQF product line, this equipment is highly effective in checking and detecting the contamination in products, like fish, squids and shrimps. The products are loaded on the conveyor belt and these are continuously checked and the contaminants are detected and rejected through a special rejection system designed for IQF processes. Metal Detector at IQF Product lines is ideal for heavy wet wash factory environments and is immune to continuous wet washing.
2) Frozen Shrimps / Fish Blocks: Frozen Shrimps/ Fish Blocks process line by and large is set at temperature of 0 to -18 Celsius and this equipment installed in the line works to detect metal contamination from frozen blocks and in the process automatically reject the contaminated products. In the freezing environment, a special model of metal detector is used. Those who have frozen lines must select the type of metal detector carefully and make sure that equipment is protected with IP 65-67 grade of protection for trouble-free operations.
3) Final Carton Line: Final packed carton line is an important section in the seafood processing unit, as all finished, ready-to-be-shipped products are packaged here in large cartons. The metal detector installed at this packaging line is required to check for any tramp metal which might enter the carton during the process. The sturdily designed and robustly constructed machine can take load of 25 50 kg of weight and can detect metal contaminants with accuracy.
Metal detector installation is therefore really necessary in seafood processing lines for protecting the produce for any kind of metal contamination and thus protecting consumers from any potential hazard of consumption of the product that contains metal.
It is best to look for a reputable manufacturer to buy select metal detectors for seafood plants. The trusted companies can only provide good quality metal detectors along with expeditious after sales service.