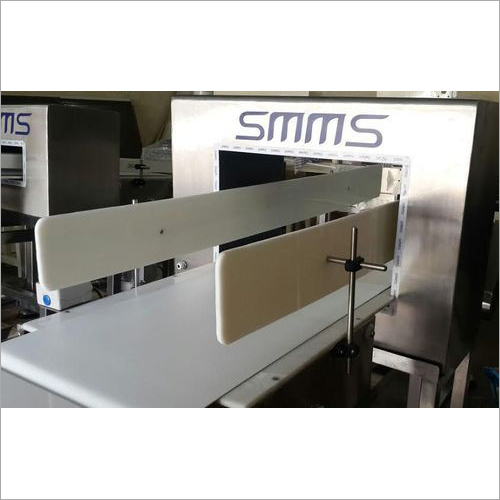 Food Metal Detector
Product Description
Food Metal Detector Details :
| | |
| --- | --- |
| Minimum Order Quantity | 1 Unit |
| Material | Stainless Steel |
| Alarm Mode | Sound, Led Lights |
| Brand | SMMS |
| Model | MD_CONV_FOOD |
Uses of Metal Detectors for Food Industry
Food industry is a fastest growing industry globally with the everyday launch of packed or ready to eat products. Food processing plants are set up to meet the increasing demand for processed food. Consumer safety is a top priority when innovative packaged food is supplied and it can be done by using metal detectors in the food industry. This equipment is required to protect consumers from any danger of metal contaminants. Companies use this equipment to free the products of all possible contaminants. One major contamination type is metal contamination.
Our company throughout the years of service has noticed a lack of awareness among the producers regarding the Metal Detector and its uses. Therefore, this article covers the applications of Metal Detectors in the food industry.
Applications of Metal Detector in Food Industry:
1) Consumer Protection: Food products processing companies make use of metal detectors in order to protect their consumers from all possible hazards of metal consumption in food. The companies must not supply food products in the market before ensuring consumer safety.
2) Developing Good Brand Image: Consumers build trust towards food brands that supply safe food products free from contaminants. This improves the brand image of companies.
3) Avoid Heavy Penalties and Compensation claims: Metal detector is regarded as CCP (Critical Control Point) Equipment by FDA and HACCP authorities and it is required in line of inspection equipment in order to avoid penalties from the authorities. This equipment must be installed at several checkpoints at the processing facilities.
Metal Detectors in Food industry can be used at several stages of production lines in following industries:
IQF Products
Bakery Products
Spices and Flour Mills
Grains Sorting Processes
Ready to Eat Product lines
Dairy Products
Biscuits manufacturing plants
Metal detectors are used for consumer protection in addition to protecting processing machineries. This equipment has several applications in the food industry as well as products manufacturing units.
Metal detectors with automated rejection facilities for metal detection are used at several checkpoints in food manufacturing units. These metal detectors can effectively detect metal contaminants and immediately reject the products that are metal contaminated, which makes the inspection process smooth and trouble free.
Companies choose metal detectors for high speed process lines on the basis of their performance of effective detection and rejection of products that are metal contaminated. Metal Detectors for Food Industries can be purchased from reputed manufacturing companies. Such companies supply the equipment with an assurance of minimum maintenance and hassle free usage.